Model AC Bulk Bag Filler
The Model AC bulk bag filler features patented cone table densification technology in a fixed frame configuration. The Model AC is designed for forklift removal of filled bulk bags.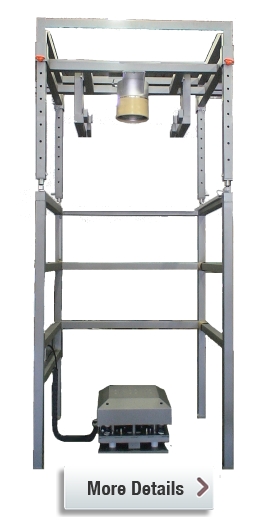 Bulk Bag Stability
Of course, the Model AC bulk bag filler features Control and Metering's cone table densification system. The cone table provides maximum product densification that ensures bag stability. It also means that you can put more product into your current bulk bag or use a smaller bulk bag for a given weight. Either way, significant operating cost savings are the result.
Accurate Bulk Bag Weighing
Model AC bulk bag fillers feature a 'gross weigh' system where the bulk bag filler frame is mounted on load cells. This weighing system can provide repeatable weighing accuracy from +/- 2-5 lb.
In the below video watch the product drop and air boil from inside the bag showing the maximum vibration energy transfer of the cone table and its ability to densify even the most aerated products.