Bulk Bag Fillers – CTE
The Cone Table Elite (CTE) bulk bag filler is one of the most versatile and capable bulk bag fillers in the industry.
Modular Bulk Bag Filling System
By selecting from a comprehensive array of standard components, we can configure a CTE to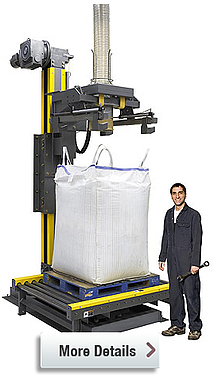 exactly suit your application. This means that ROI is maximized... you buy exactly what you need.

The other key benefit of modularity is the CTE bulk bag filler's ability to grow with your needs. You can purchase a simple filler that can easily expand to become a fully automated bulk bag filling system... without throwing away your initial capital investment.
Bulk Bag Stability
Of course, the CTE bulk bag filler features Control and Metering's cone table densification system. Unlike industry standard, through-pallet densification bulk bag fillers, the cone table provides maximum product densification that ensures bag stability. It also means that you can put more product into your current bulk bag or use a smaller bulk bag for a given weight. Either way, significant operating cost savings are the result.
In the below video watch the product drop and air boil from inside the bag showing the maximum vibration energy transfer of the cone table and its ability to densify even the most aerated products.